"A horse FLY," exclaimed the toad, "I heard of. But a horse ANT never!"

The tern had to clarify that the ant's name was H-o-a-r-s-e. Hoarse!

Ah, of course! And so all requested that the tern tell the tale of Hoarse the Ant. And your cricket (was he writing more self-consciously now, with an eye toward an epic perhaps?) recorded it for posterity as follows:


Five years younger than Virgin the bee was Hoarse the ant. His father had been a slave ant but became a freedbug. This doting father labored hard and sacrificed much to provide the best education for son Hoarse. In fact, he sent the young ant to study in Grease - to that temple of the intellect, Aesthetes itself.
Many wealthy young Roamin insects studied (and partied) in this great university town. One day a bit of hair-raising news left all of them, including Hoarse, plain bug eyed: Brutal was in town!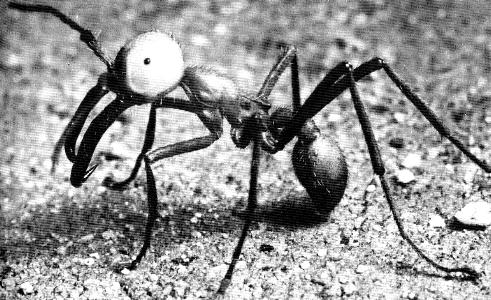 Bug Brutal, the noblest Roamin of them all - he who struck down the dictator in defense of the Republic was in Aesthetes recruiting an army to fight Seeczar's heirs, Oddoreven and Mark Ant Only.

Young Hoarse was swept off all six of his feet. Very quickly he became an army ant, an officer in the field. Hoarse fought with Brutal at Philip's Eye.

Dear comrade, in the days when thou and I
With Brutal took the field...

(Hoarse is writing an ode to an old friend)
With thee I shared the Philip's Eye wild defect
My shield behind me left, which was not well,
When all that brave array was broke, and fell
In the vile dust full many a mighty insect.