The neophytes were all in tears but the three Peeping Toms laughed like horses.

"Ha! The mere mention of bull - any kind of bull lands one in very hot water indeed. A whale's college only for cows! Ha, ha, ha..."

They intend to send a wire
To the moon - to the moon;
And they'll set the sea on fire
Very soon - very soon!

Then the little calves they're teaching
For to fly - for to fly;
And the Humpbacks they'll be bleaching
By and bye - by and bye!

To get sunbeams from cucumbers
They've a plan - they've a plan.
And underwater slumbers
They will ban - they will ban.

They've a firmly rooted notion
They can cross the Polar Ocean
And they'll find Perpetual Motion,
If they can, if they can!

Now the three intruders stealthily swam closer to the circle of students - to the very periphery. (You remember the blue whale scale of which we speak; I am talking about such vast distances as those giants would stride in one step - those very giants the serpent so graphically depicted for us in his tale.)

Well, the three bulls managed to tug at the tail of a cow, and to corral her off to one side. Frightened at first (she had never seen a bull) she soon relaxed when she saw they were beautiful. Yes, and especially Kriryl!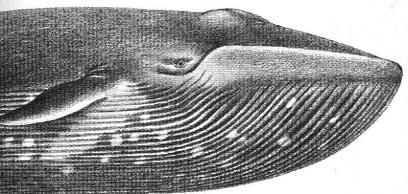 Her name was Delicia and she confessed that none of the blue whales at the school had ever been with a bull; they were all virgins! Yes, even Hydra.

Well then - did Hydra really know what she was talking about, the bulls demanded! Well... And here all four broke out into (you guessed it; these are whales, after all) a song:

The whale of the wisest wit
May sometimes be mistaken, O!
In Hydra's views, I must admit,
My faith is somewhat shaken, 0!

That was Delicia's part. But the three bulls took up their parts without missing a beat:
On every other point than this,
Her learning is untainted, 0!
But Bull's a theme with which she is
Entirely unacquainted, 0!
Acquainted 0!
Acquainted 0!
Entirely unacquainted, 0!

Delicia swam off to persuade Hydra to meet with Hilaryous. After all, the Princess owed him at least an explanation. They WERE to be married and Hydra had left poor Hilaryous in the lurch.

"No, no! We have promised to renounce all bulls." Hydra was adamant with Delicia - fanatic! "It's death to any male who enters here!"