Also there was a hen, a hummingbird,
The flyer most unique in all our herd.
Others would flutter, float, sail, wave in air;
She just hovered and hung without a prayer.
On her throat she longed to wear rubies red,
But all five husbands - each a feather head
All kept these jewels themselves. Yet she was gay,
And would eat, drink, flirt, mate each sunny day.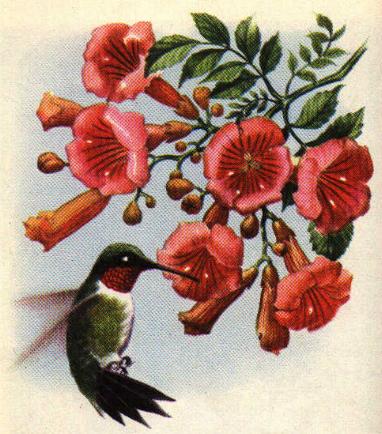 Next, all in orange and black, a Monarch came:
Danaus plexippus his royal name.
A wee king, slight as your versifier,
Yet no larger eclipsed him as a flyer.
Two thousand miles he'd fly if he took notion.
With no pause for rest he crossed the ocean -
The very sea I was thrown 'cross by storm.

A bear, all in fur coat now much too warm,
Was there, and she from home in polar ice
To join our throng had made much sacrifice.
Two darling, snow-white cubs she left behind.
And though to dog days she was disinclined,
On iceberg she floated, far as could be,
'Till it melted and she joined our company.