Shor did consort with deity Lucky,
A subversive in the gods' happy home.
This evil-starred god fell to fate mucky:
A foul, mean, vile doom not all the sea foam
Could wash clean and erase from Fortune's tome.
A wise, fair, good god Lucky did envy,
He killed this god in manner most sneaky.

The other gods were enraged at Lucky,
(The murdered god was good beyond compare.)
"Slay the evil one!" But he was plucky,
And fled the gods' home way up in the air.
He hid himself in a mountain somewhere.
On each wall of his house he built a door,
And watched for an ominous visitor.

For Lucky did the gods search high and low,
And Lucky full well knew they sought his life.
Woodin took his seat on the high plateau
From whence he could see all, both joy and strife.
He DID spy Lucky working with a knife.
Lucky cut linen twine to make a net.
For Lucky's sly disguise had made him sweat.

Lucky, you see, to hide from gods did change
His form from god beyond comparison,
To something wondrous and marvelous strange -
To a pink and gray Chinook salmon.
Yes, and of fish he was the paragon.
He frolicked in the stream both night and day:
"They'll never find me here look where they may."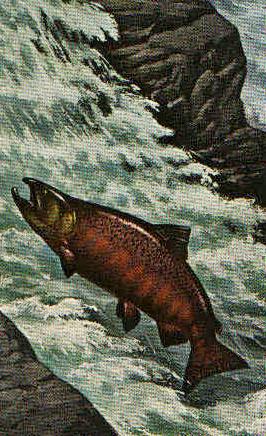 But sometimes as he swam he had a doubt.
He often worried that the gods might learn
Where he was and how to pull him out.
And so with fear his heart did rage and burn.
His stomach rumbled and his mind did churn.
Lucky assumed his godly form once more:
"I fear all the damn gods but mostly Shor."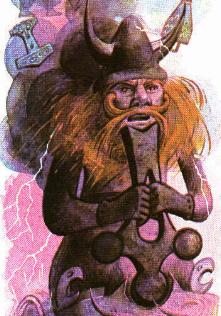 Lucky sat before his fireplace and thought
"How might the gods catch me?" Still he would fret
And brood before the fire. "How are fish caught?"
Then with those linen cords he wove a net,
The simple devise fishermen use yet.
Yes, Lucky was inventor of this mesh
Which now enables men to eat our flesh.

But now Lucky saw gods approach his hut.
He quickly threw his net into the fire.
He ran outdoors to join the halibut.
Yes, he became a fish again entire -
A salmon which all other fish admire.
The gods were wise and noticed in the flame
The net's white ash: "Ah, now we know the game!"

The gods had figured out Lucky's disguise.
"Quick - to the river! He's become a fish!"
A strong net they were quick to improvise
And ran down to the stream most feverish.
"Yes, now we'll catch this god so devilish."
Shor held the net at one end and the rest
Of the gods at the other did their best.

A mighty waterfall plunged in that stream.
The gods at its very foot cast their net.
They dragged it toward the sea. Working as a team
They combed the flood. But Lucky was dead-set
To get away. He eluded their threat.
He hid between two rocks on river's floor:
"I'll show those gods who is superior!"

And sure enough the net passed over him,
But the mighty gods did not fail to see
A tiny movement, a shiver, a shim
Just enough to betray luckless Lucky.
Hunter or hunted - where more agony?
Back to the fall the gods returned with groans.
But this time weighed their net with heavy stones.

A second time they swept the raging creek,
But now the net dragged on the river floor.
This time Lucky could not play hide-and-seek,
But had to run and race the net before.
Wider every second opened death's door.
But with a mighty leap near twelve feet tall
He jumped the net: swam back to waterfall.