Now the snake slithered down from his limb on the tree around which we all silently sat.

Like all of us he had hung on every word of the bison's tale. The mist had cleared. Now the moon was one gigantic glowing eye and the stars a billion fireflies.

The snake's skin glistened in this sheen. Was he especially pleased because the bison had referred to HIM in the course of his story? Of course we all were moved by that big lug of a buffalo. I doubt if the snake was more affected than any other. No, if he was touched by anything it was SARCASM, for he rose and thus he spoke: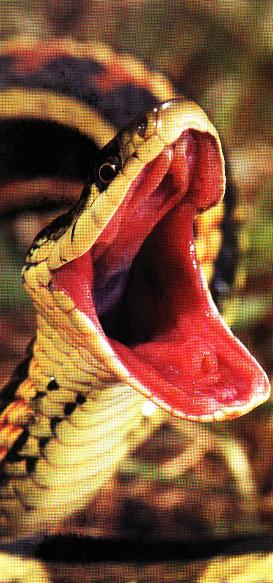 The bison, my friends, has made quite a start,
And left us not one eye dry in the wood.
I would say - if I only had a heart -
That his buffalo tale is so darn good,
It wins our contest in all likelihood.
And yet his sad story, I must complain,
Sounds just like "If I only had a brain."

A better story full of oohs and aahs
Tells of a snake who was much more wise.
Serpents call it "The Charmer of Madraz."
Many such legends can I dramatize
If you will give me leave to poetize.
But let us sleep now since the hour is late.
With morning's sun I will expatiate.

And so the pilgrims bid their long first day goodbye. Folding wings and bending legs we embraced sweet restful night. Bear lay with caribou, toad with butterfly. Frog did not try to master moth, nor would turtle subdue spider. But rather, we were all conquered by "Sleep, the universal vanquisher." Yes, an overpowering elemental stuff had fallen over us. How did our Shakebeard put it? - "the honey-heavy dew of slumber."

In the morning it was all on guard again, lest one should be breakfast to another. Yet such hostile moments were for the most part rare. The moose kept the peace. And nothing would quiet us quicker than another camper's merry tale. And so as promised the snake gave his as follows: