There was a bird with us whose long sojourn
No creature could better: I mean the tern.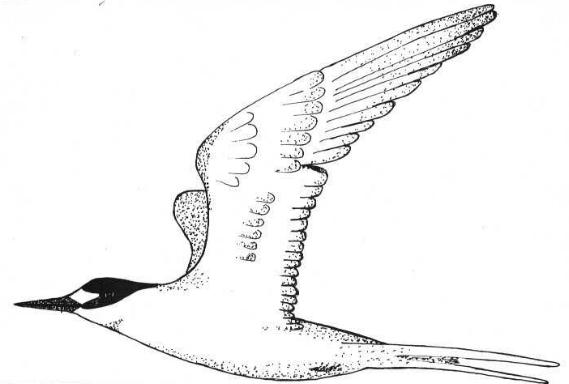 Of all animals on earth only she
Encompassed the planet. Over the sea
She flew eight months non-stop and then some,
Never falling prey to dull dry tedium.
Alone she flew - a soaring solo flight
From blinding ice-bound North to South snow-white:
Pole to shining pole! She never saw night
But lived her whole life through in broad daylight.
Twenty-five thousand miles a year she flew,
High in dazzling skies of brilliant blue,
Not condescending in her self-conceit
To decline lofty heights except to eat.
Then she would plunge into sea with a splash,
And with a mouthful of fish and such hash
She would shriek with joy. Then with jeers and smiles,
Off again: another three thousand miles.

Yes, she had her cake and could eat it too,
For after motherly duties she flew
From cold north nesting grounds to warmer clime.
She wintered in the south: a life sublime.
Always she wore gray, her mouth a blood red,
And never removed a black cap from her head.
Her name, we learned, was Stella Paradize.