Intrepid through the midst of danger go,
Their friends encourage, and amaze the foe.
With mighty souls in narrow bodies prest,
They challenge, and encounter breast to breast;
So fixed on fame, unknowing how to fly,
And obstinately bent to win or die,
That long the doubtful combat they maintain,
Till one prevails - for only one can reign.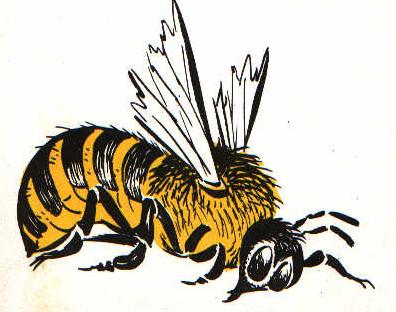 Virgin wished to escape these bloody wars. He became, even in the busy hive, a near recluse. He kept close in his cell and buzzed away at his work: deep study of philosophy, creation of glorious poetry. And always he idolized the bees of Grease:
Their toil is common, common is their sleep;
They shake their wings when morn begins to peep;
Rush through the city gates without delay;
Nor ends their work, but with declining day.
Then, having spent the last remains of light,
They give their bodies due repose at night,
When hollow murmurs of their evening bells
Dismiss the sleepy swains, and toll them to their cells.
When once in beds their weary limbs they steep,
No buzzing sounds disturb their golden sleep.
'Tis sacred silence all.