The gods cast their net once more - a third time
They fished for this evil fiend in the brook.
But now Shor plunged into the mud and slime
Following the net as the gods betook
Once more to catch that slippery Chinook.
Ever closer the net swept to the sea.
Lucky now needed all his bravery.

Just one thing to do: leap the net once more.
Frantically he gave his mightiest jump.
But waiting for Lucky was great God Shor
Who into the air both his hands did pump.
Slippery and wet Lucky tried to flee.
But Shor squeezed hard without the least mercy.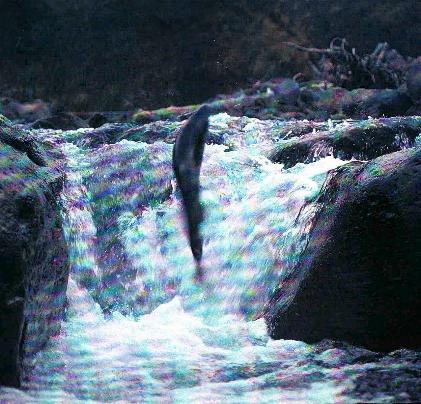 And this is why, my friends, the salmon's back
(Just look at mine) grows narrow toward the tail.
Ever since the gods did Lucky attack
Every salmon is born thus without fail.
And so I supplement the snake's thin tale.
Would this were a tasteful tale, not yucky;
But what can you do with a god named Lucky?