MAY 13

In all the two months and more we've been doing this, today's walk is the most radiant of all. Warm, wonderful sunshine yes, but what glorious country! All day long we hug the Colorado River, and each curve in our road opens up a vista breathtaking, ravishing in its splendor. Mountains, farms, horses, cattle! Did I ever take a more sublime walk, even in California's Sierra Nevada? No, nothing is comparable to this hike from Rifle to Newcastle, Colorado. Is someone slipping a mind-altering drug into our breakfast drink?


MAY 15

Rest day in the town of Glenwood Springs. I do my laundry and shop at a health food store, mostly for tahini. No meeting today of the radio staff, no Shakespeare Society. Something bigger beckons: the largest hot spring in the world. Two city blocks long, the pool steams on this drizzling day. Five hours I soak in that healing water, singing all the time with Bea from Santa Barbara.


Hard rain back in camp: three cups of hot soup for me. While writing four postcards to the Cupertino kids I think of Beatrice. Today, as I lazily soaked in a hot spring for hours, Beatrice - with other intrepid Marchers - climbed cold and snowy Cottonwood Pass. She refuses to skip one day of walking, and I believe she is the only woman on the entire March who has walked every single day there was walking to be done.
MAY 17

No walk today, it's my kitchen day. I write to Carol, Dean, and Kent in Salt Lake City. At the lunch site I serve potatoes to lines and lines of marchers. At camp in the evening a very long kitchen shift for me. I make chutney with apple/raisins/ginger. But the vehicles roll in late, most of the kitchen crew fail to show, and the menu is much too ambitious - a lavish Indian meal. Impatient marchers clamor and bang on the kitchen walls and doors - they don't even BEGIN to eat till 9:30. Long after that I'm still ladling out yogurt/cucumber dressing in the dark and cold.


MAY 18

Walking with my tape machine on a glorious day. We're in ski country heading toward Vail. How difficult to keep track of all one's possessions! My stationary box with address book and all gets lost today in a garbage can. Phyliss retrieves it for me. But the entire campsite is all in chaos anyway. Barely room for one tent let alone two hundred. We do have a tremendous and delicious meal here.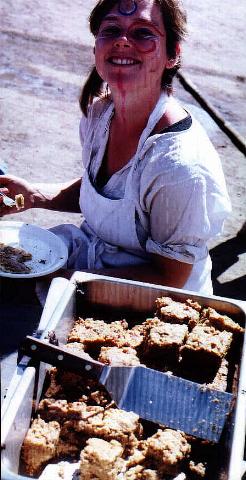 But wow! After that supper who needs tents? We're sleeping in condos tonight! Beatrice and I have a place to ourselves with TWO bedrooms, TWO baths, TV, a large den with fireplace, and, and... As in a shared dream we explore every inch of the place, screaming with delight. We soak nude in the hot tub and later cavort naked in those two big beds.


MAY 19

Big rest day and god do we need it! Everyone so tired. But everyone is so mellow after those condos last night. Will, the guy who runs this place, treats us to coffee, soda, wine, and beer - to watermelon, hamburgers, hot dogs, chicken! There's no end to what people do for us on this March. But again I'm losing things: today all my stamps, my vitamin C, a favorite shirt, a jar of cashew butter - all disappear in the turmoil, the muddle of the March.