Dear Gene,

As you well know, every kind of peculiar character was found on the Great Peace March. I found one of the wackiest. Although I was the mail lady and I handed this guy his letters every day, we did not really meet until late in April in Utah. Very close to Shakespeare's birthday it was, but a few days after. Yes, a day or two before the terrible nuclear meltdown in Kiev - what day was that - the 29th? We probably met on the 27th or 28th. How does that accord with what you find in the journals?

I immediately thought him wonderful. How he loved to sing! Our first few days together were so lyrical - a song without end. Before long in the desert we transcended even song: we made a leap to purest poetry! Hot sand singed our feet while our eyes burned deep into a book: Shakespeare's Sonnets. Stumbling on sharp stones, we read out loud to each other all 154 of those little gems.

That was only the beginning. Next we read the long, lovely Venus and Adonis. And we immediately followed that with The Rape of Lucrece.

Next he wanted to read the plays. I don't remember which one we read first. But comedy, tragedy, comical-historical, historical-pastoral... we read nothing but Shakespeare and Shakespeare.

Early on I tried to get in a few other poets - Poe, Byron, Keats... But no, he would have none of them. "Shakespeare is in a class absolutely of himself!" he would sputter. "No one is near him a thousand years, by millions of miles..!" I mean he would rant incoherently. When once I suggested that Shelly was a very great poet he grew furious. This was our first fight, and a big one too.

We read out loud to each other twenty-two of the plays, taking all the parts. We read Shakespeare crossing the desert, climbing the mountains, trudging across vast prairies, treading our way through bustling cities... During the hardest, longest downpour of the entire March, under raincoats and tarps and plastic sheets we walked all day reading Richard III.

I can think of certain places only in association with specific plays. What was Chicago for me but Henry V? We read the play walking into the city, and saw a production of it on the roof of a tavern.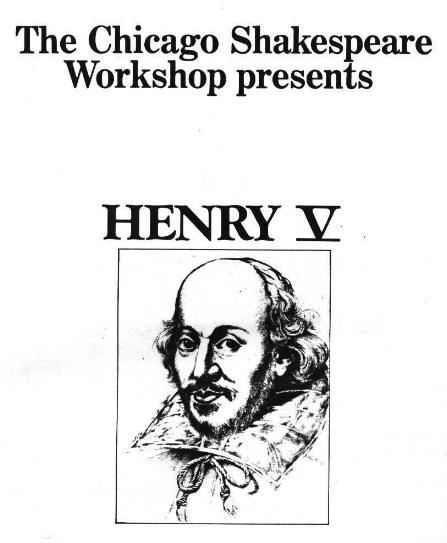 In Chicago we also saw "The Comedy of Errors." And this while all the other Peace Marchers rallied against nuclear war in the parks for four days, talking to people all over the city about peace.

What did we do in New York but run all over town - from the Bronx to the Battery - looking for Shakespeare plays? How well I remember "King Lear" at Julliard. On the East Side we saw Verdi's "Otello" on film - an opera, yes, but one based on Shakespeare's great tragedy. Down in the Village there was "The Tempest."

Shakespeare and Shakespeare all across the country! I can still see in my mind's eye the New Jersey pond where we read Measure For Measure, the Ohio village green where we read Two Gentlemen of Verona. On the big exciting parade through Kutztown, Pennsylvania we could hardly keep our eyes out of Timon of Athens.

If we came to a college or university he would drag me into the audio/visual department and there we would watch a video. So we saw the BBC "Merchant of Venice" at Carnegie-Mellon in Pittsburg. No library however tiny, no junk shop be it ever so seedy, would we walk past but he would insist we stop and look for Shakespeare books inside.

And now he was buying (with his last penny, I should say) not only the plays, not only volumes of criticism and commentary, but biographies of Shakespeare, histories of Elizabethan England, large picture books...

Not content to envelop only me in his madness, he ensnared other Marchers as well. He got Sarah Willner to walk with us twenty-three miles to a little town to see a Laurence Olivier Shakespeare film in a tiny library, on a screen not big enough for a slide show.



Sarah was in three of our productions. Yes, pulling together casts and crews, we became producers of Shakespeare on the Great Peace March. We put on the boards four Shakespeare plays: "A Midsummer Night's Dream" in Kearney, Nebraska, "Twelfth Night" in Lake Anita, Iowa, "As You Like It" on Lake Erie in Cleveland, and "Macbeth" in Washington, D.C. On beautiful Lake Anita, at the conclusion of the performance, cast members ran in a big circle around one end of the porta-potties and came out the other end with Pete Seeger!