APRIL 7

My eyes, my body language, reveal all: she knows! A long time together this morning. She's wondering whether to do civil disobedience: she's leaving on a bus with forty-four others for the test site. Intertwining fingers, we say goodbye, and I - Prospero - give my Ariel a book of Shakespeare's Sonnets. In it I inscribe:



If you do end up in jail
Because you hate nuclear war,
May these Sonnets serve as bail
To buy a world you can adore.


In the big city of Las Vegas, I do media work, then attend the hours-long rally at the Energy Department. What a gorgeous evening and lovely vigil! Candles in the dark and the most fabulous singing I've ever heard. It's our own group, Collective Vision, and I record a dozen of their songs on tape.


APRIL 8

I awake in a Las Vegas church at 4:00 AM and immediately go to work recording the early morning sounds: the coffee pot whistling, bleary-eyed Marchers talking. A nuclear weapon will explode today, one hour from this cozy breakfast nook. Is it possible to stop this outrageous bomb? A bunch of us jump into a car and run off to the Nevada Test Site.

Ariel meets me there and she has the book of Sonnets in her hand! She has decided to do civil disobedience. With my fingers tightly intertwining hers, I promise to be on her support team. A sweet farewell, an embrace, a kiss on the cheek... She tells me I'm wonderful!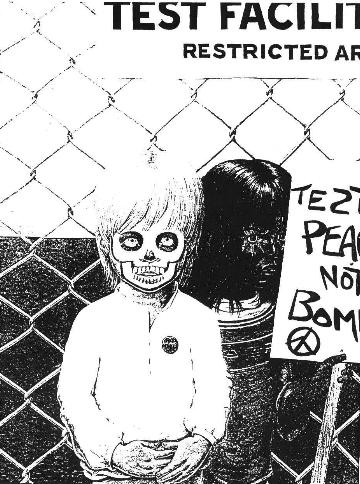 Again, readers, five pages are missing in the journal - five eventful days, we must imagine, around Las Vegas but nothing in the journal. Well, there are a few scraps of paper here still clinging to the binding. On them I can make out some words: "buffet" and "Stardust," and "smorgasbord," and "Circus Circus," and "all you can eat..."

Food and sex! Ah yes, the two great pleasures in life. That's all he talks about, this guy with his journal. The early days of the March were so dramatic: the darn thing was on the road to ruin. Our author does give us SOME feeling for the peril. But for the most part in his journals he is preoccupied not with the social issues of the March, not with its politics and problems, but with his ROMANTIC inclinations. He has a liaison with one woman, and no sooner is she gone than he is hopelessly in love with another. One blushes for this writer. When first I found these journals in my closet, I showed them to some friends. They were amused, surprised - even indignant: "What! Did people join this great walk to get laid?"