Imagine...
...a nine-month march (3,700 miles!) across the United States - getting bigger and bigger as it goes! The goal? Washington, D.C. where millions will surround the government and make it "take down the bombs." GET RID OF NUCLEAR WEAPONS! Picture the Los Angeles Coliseum jammed to the rafters, a laser light show, every church bell in town ringing, Mayor Bradley speaking, thousands cheering. The departing marchers led out by Paul Newman, Elizabeth Taylor - a whole host of Hollywood stars!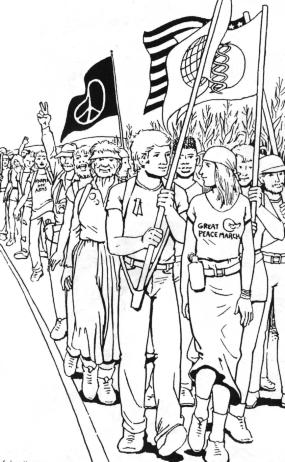 Drawings by Guy Colwell
What A Vision!
Yet how different the reality. Only two weeks out found the Great Peace March dying in the desert. In a freezing rain, hypothermia struck a number of Marchers. Hot soup alone did not save them; they had to be placed in down sleeping bags next to male and female warm bodies. Next, "Repo Men" swooped down to carry away the vehicles. The March was stuck in Barstow for eighteen days without advancing an inch. The leader of the March, declaring the organization bankrupt, told everyone to go home. Many hundreds did.
But the Great Peace March, like the Phoenix Bird, arose from its ashes. It was no longer a corporate-sponsored glitzy affair but a down-home grass roots movement. It depended on the kindness of strangers: open houses in Las Vegas, Salt Lake, Grand Junction... tremendous potlucks throughout the Midwest... hot showers and soft beds all across the country. Yes, terrible heat and frightening storms too.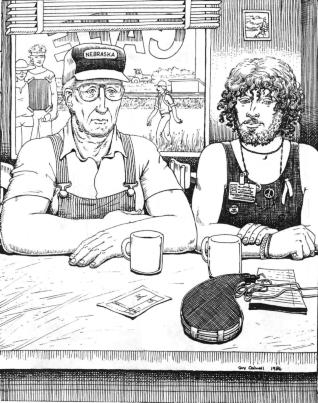 Nebraska was brutal! Heat and humidity hovered around 100. And a billion bugs hovered around the poor Marchers. But the Peach March made it all the way - across the Mojave Desert, over the Rocky Mountains, across the Great Plains, in and out of big cities - Denver, Chicago, Pittsburg, Philadelphia, New York... Finally, on November 15, 1986 - precisely on schedule - 500 triumphant Marchers entered Washington, D.C.
The Peace Marchers shared an adventure never-to-be forgotten. At reunions they still recall the highlights: Pete Seeger in a tent with hundreds of Marchers, singing and playing banjo late into the night. The Great Peace March on top of the world on the Continental Divide, 12,000 foot-high Loveland Pass in Colorado. The Marchers on the docks of Davenport, Iowa, embracing Soviets who, with Americans, were on a Mississippi paddle-boat peace cruise. The GPM at the UN with Jesse Jackson...
June had her Wo-Chi-Ca, and Gene is envious that he never went to such a genuine left-wing summer camp. But the Great Peace March was Gene's Wo-Chi-Ca, probably the best thing he ever did. It sure was the greatest adventure of his life.
Well, Gene is an honorary Wo-Chi-Can now, and June is a member of the Peace March Family. We both go to each other's reunions, read messages on both the GPM and WCC web sites, and contribute in every way we can to the two oganizations. And hey - we ARE writing a book about Camp Wo-Chi-Ca! (See appropriate page on this web site.) Will our next book be about the Great Peace March? No, darn it! Good books already exist on that subject. Our next book will be about hot springs! (See appropriate page on this web site.)